Another variation of our popular Adige River and Lake Garda Cycling Holiday. This option allows you to cycle from high in the Dolomites, along an idyllic cycle path, past quaint mountain villages and historic towns to stunning Lake Garda and finally the bustling city of Verona.
The small village of Resia at the head of the Resia pass, just 3 kms from the Austrian border is the starting point for this easy, scenic cycling holiday. The picturesque lake adjacent to the village is not a lake at all but a reservoir and the rather incongruous sight of a church bell tower protruding from the water marks the location of one of several villages submerged following the construction of the nearby dam in 1950.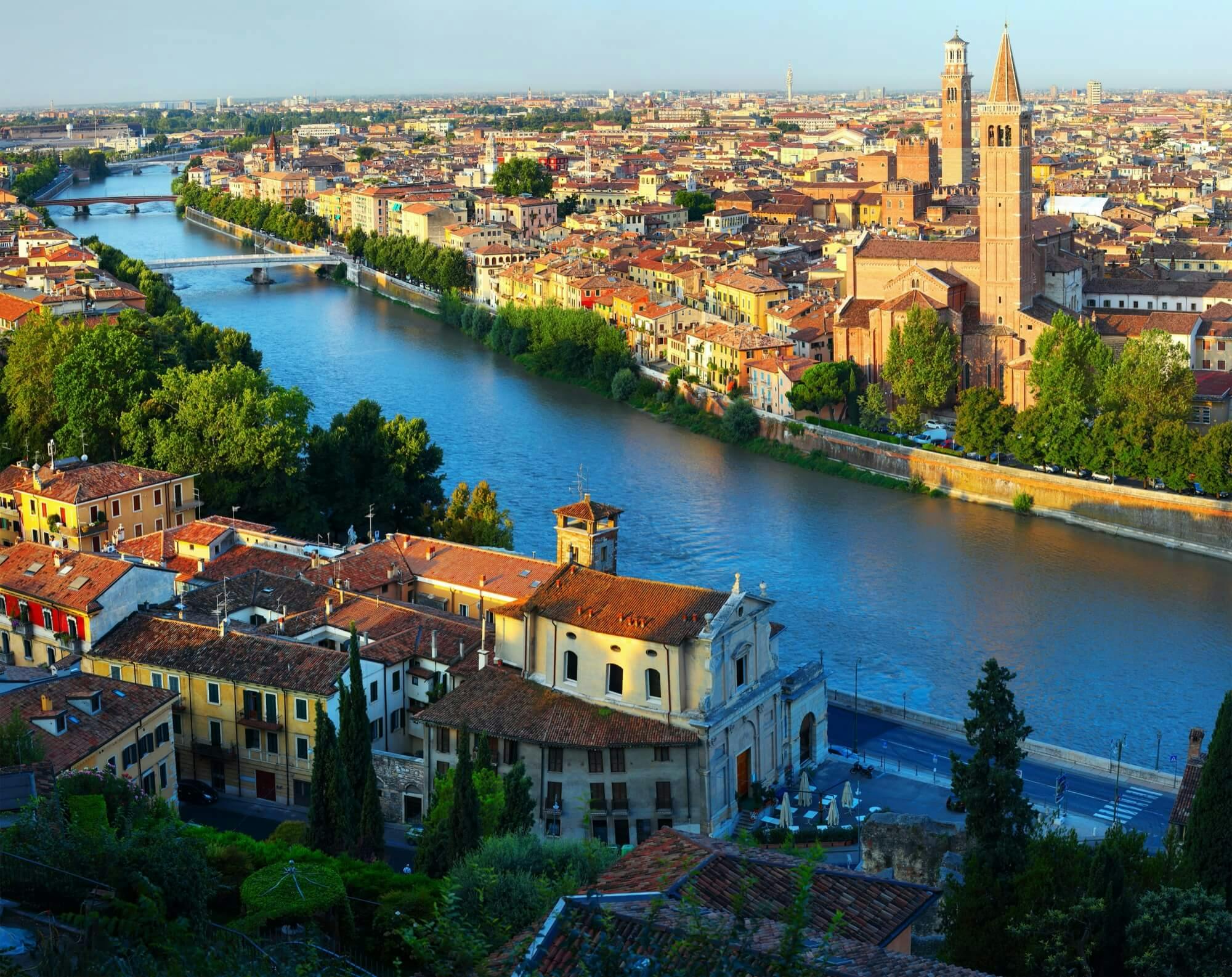 Verona
From Resia a pleasant cycle path leads you gently downhill, along the valley floor, past pretty villages and stunning alpine scenery. Throughout the route you'll never be too far from the Adige river and you'll witness it grow from a tumbling mountain stream to a deep wide river. You'll overnight in small alpine villages as well as enchanting medieval towns and cities, such as Bolzano and Trento, along the way .
Over 6 days you'll descend from high alpine pastures through huge fruit orchards and vineyards to the shores of Lake Garda and finally the ancient Roman city of Verona on the plains of Lombardy. Many of the villages and towns along the way originate from Roman times as this is also the route of the Via Claudia Augusta, a trans-alpine path first opened in 46 AD.
There really is only one climb on this whole route. It's not very long or steep and your efforts are rewarded with a jaw dropping view down the length of Lake Garda. After an exhilarating descent you enjoy a ferry ride down to the southern end of the lake.
Your final ride leads you to Verona a historic city known for its Arena (Roman Colosseum) and many other ancient sights. Head to the bustling Piazza Bra, adjacent to the Arena, in the early evening for a meal and a drink to celebrate completing your journey.
This is an easy route the vast majority of which is on a gently descending well-maintained cycle path. The daily sectors are easily managed in around three hours or so of continuous cycling so there's plenty of time to stop and admire the views or to explore a town or village along the way.